Category —
Bollywood
Shah Rukh Khan, in a TV commercial tells us, sabse zyaada wish karo, dish karo.
Dish kare SRK, SRK ki biwi, SRK ka poora khaandaan.
Meanwhile, I need to do the dishes as well. Dish karo…
It seems only a few days ago when Kareena Kapoor won the sexiest vegetarian title – and now it seems the crown has shifted to her ex – Shahid Kapur. PETA apparently dishes outs these awards faster than bhindis can grow.
But if Shahid Kapur is such a committed vegetarian, why is he going bonkers over Piggy Chops?
And that too, when swine flu is round the corner?
Kareena Kapoor thinks jumping into the ocean requires a dress code.
I can't dive into the ocean in a pair of jeans or a frock, can I?"
Hopefully it never happens, but imagine Kareena and Saif flying out for a holiday to an exotic island in a private plane. Somewhere in the middle of the Atlantic, the plane has engine trouble and Saif shouts.
"Kareena, the plane is gonna crash. We need to jump into the ocean."
"Of course, I can't. I haven't brought my swimsuit along".
Well, nothing really wrong with Kareena's quote – it's just one of those days when I can't find anything to blog about.
The cast and crew of Vipul Shah's film Action Replay has now given Aishwarya Rai a couple of new names.
But while, Akshay and Rannvijay would struggle to get their steps right, Aishwarya would hardly take a minute-and-a-half to perfect even the most intricate steps." This prompted everyone on the sets to refer to the sexy star as dedh minute wali. However, by the time they neared the song's completion, Rannvijay had named Ash, dedh second wali.
And I always thought she was the dedh-dimaag waali.
Finally, somebody put all the bullion depository with Bappi Lahiri to some good use.
Aamir Khan has offered to personally clean toilets of single-screen theatres – all to ensure that Vashu Bhagnani's film Kal Kisne Dekha does well at the box-office.
At the meeting of the United Producers & Distributors Association (UPDA) Vashu Bhagnani's hands and feet went cold with nervousness and pleasure when Aamir Khan walked up to him and assured the worried producer that his son's debut film Kal Kisne Dekha will get a royal release in single theatres even if the multiplex theatres remain unavailable.

Aamir said, 'Vashuji, we'll make sure that the mutiplex audiences will head towards single theatres to see your son's film. I will personally clean the w.c. if we have to. But don't worry, your film will get the proper release.'
Hmmm. After the Ghajini haircut hype unleashed on the multiplexes, I won't be surprised if more people buy tickets to watch Aamir Khan clean the toilets rather than watch yet another producer-ka-beta's debut film. And if someone from Harpic is listening – it's time to grab the opportunity and sign Aamir Khan as its brand ambassador.
But strangely, I still can't figure the connection between cleaning the WCs and a box-office hit. Unless, Kal Kisne Dekha - pretty much like Ghajini – is load of crap.
I love this Times of India Headline:
It has become a fashion to open fronts: Sonia
But sadly, the story had nothing to do with Twinkle and Akshay Kumar.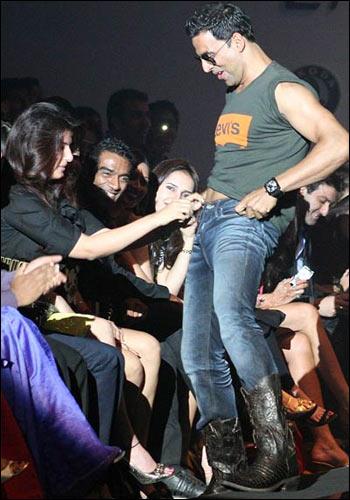 Italy has just seen has seen one of its worst ever earthquakes – and yet another gaffe from the Prime Minister, Silvio Berlusconi.
The Italian prime minister, Silvio Berlusconi, today sparked controversy when he said the 17,000 people made homeless by Monday's earthquake should think of themselves as being on a "camping weekend".

Berlusconi made the remark during an interview with a German television channel as he visited one of the emergency camps set up to cater for people who have lost their homes in the disaster.

The quake, which devastated the city of L'Aquila and surrounding towns and villages, has now claimed 260 lives. Berlusconi told the reporter for the N-TV channel that the homeless quake victims "lacked nothing"."They have medicaments. They have hot food. They have shelter for the night," he said.

"Of course, their current lodgings are a bit temporary. But they should see it like a weekend of camping."
While the rest of the world has pounced on Berlusconi for his insensitivity, I really don't think his comments deserve all that criticism. Berlusconi, is in fact right. When you think of a post-earthquake homeless experience as a camping trip – it does make your mood lighter. In every tragedy one goes through, the person has to look at the brighter things of life – or assume that this is yet another adventure you are going through.
Imagine if you are caught in a flood and your house is cut-off from the rest of the world. Simply think of it as Blue Lagoon kinda experience. If you are caught in a hotel with terrorists shooting everyone around – think of it as an opportunity to play the banian-clad Bruce Willis in Die-Hard. If you are caught in a worse tragedy – like a movie where Aishwarya and Hrithik Roshan attempt acting- think of it as a trip to the Madame Tussauds wax museum.
And if you are caught in a Himesh Reshammiya concert – well you can't do anything. In fact you are dead, admitted into hell for your past paaps and there is no way out.
Kolkata Knight Riders and the four-captain theory is at least getting the team much needed free publicity. While Sunny Gavaskar rubbishes Shah Rukh Khan and John Buchanan's latest brainwave – King Khan is quick to point out that KKR is his team – and he'll do anything he likes with it. And if Gavaskar wants his ideas to be put into practice, he should buy his own Chinchpokli Champions XI. I think that's fair enough – it's SRK's team and he's free to do whatever he likes.
(Does this have anything to do with Gavaskar being pelted with eggs by the Calcutta crowd in the mid-80s? Well I don't know)
But let's come back to the four captain theory. I think that's the way to go about it. After all, that's how Kolkata works… I can now tell you what SRK and Buchanan precisely have in mind.
One, the four captains won't be called 'Captains'. They'll address each other as 'Comrades' and the collective team of four will be called the KKR Politburo. And then there would be a General Secretary called John Buchanan – who in turn would be reporting on a hotline to SRK, who for some strange reason would be based in China.
When there's a bowling change to be made or the fine leg to be brought inside the circle – the game would be called to a pause – a politburo meeting held – and then the General Secretary would take a decision. In case of problems, the call to China can immediately be made for a final decision.
Just in case a solution isn't in sight – just as the game is slipping away quickly from KKR, the politburo will simply call the rest of the players (also called the trade union) and they'll dig up the pitch, stone the floodlights, threaten the umpires, bash up rival players – and ensure a match abandoned.
That way KKR can never lose a match.
For those who pooh-pooh the four captain theory, just a reminder that it has worked for 32 years in Bengal now. And no reason why it shouldn't work for another 32.