Posts from —
April 2009
A Lok Sabha candidate from Madhya Pradesh has never managed to get his wife's vote.
Jain, 55, is contesting from Indore as an independent for a record 27th time and is busy campaigning. But he always fails to "woo" his wife Rajkumari Jain, who votes for his rival.

Ask him why his wife doesn't vote for him and he says: "Bai bai ko vote deti hai (women vote for women).
See, that is one reason I never stand for elections. One can never trust your wife to vote for you. And if 50% of my vote-bank isn't going to vote for me, no point in contesting.

A policeman who was caught accepting a bribe – tries to destroy evidence by swallowing the money.
A police constable, who took Rs 1000 bribe, swallowed the cash after anti-corruption bureau sleuths caught him in the act on Saturday.

Constable Vijay Kalaskar who swallowed two Rs 500 notes claimed that he took the bribe on behalf of sub-inspector Madhavrao Shinde.

[…]

"When Kalaskar noticed that we were running towards him, he tried to flee but we nabbed him. He swallowed the currency notes. We took him to Government Medical College and Hospital for medical examination. The stomach wash, stool and urine of the constable would be sent for chemical analysis," said Karmarkar.
Now, a stool test will decide the fate of a bribery case – that must be a first of its kind. Now we know exactly why the cops in India are better known as paise-khaane waale police force.
For the first time in nine years, I get an anniversary gift from my wife. I naturally am delighted.
I spot the specially wrapped package – simply can't wait to discover what's inside. I hurriedly unwrap it – and I am truly delighted. Here's a special gift that I have always wanted to own. (Don't ask what it is – allow me a little privacy). It's a bit expensive, but something that's made my day.
Thank you, thank you, thank you. It's something I can't do without.
A week later, comes the second surprise. When I find the entry for the gift purchase on my credit card statement.
Well, you rob Manishwa to pay Manishwa. It's a gift I could very well do without.
I love these new ads from Vodafone being aired currently during the IPL matches.
Pretty cool animation, some really cute characters – don't know what they are called – so I'll call them Vodones. Much better than dogs as your mascot – and certainly a lot cheaper than hiring a bollywood superstar as your brand ambassador. Truely, what an idea, sirjee.
Tiger Woods tells us that he understands his wife's language pretty well.
Another probing question: Does Woods speak Swedish around the house? (It's the native tongue of his wife, Elin.)

"I speak a little. It's not very good," Woods said. "I'm better at reading than I am anything else. Or 'Take out the trash' or 'Clean the house,' 'Wash dishes,' I understand those."
Doesn't matter if you are world's richest sportsman or a penniless blogger – there are a few things you simply can't escape – death, taxes and the dishes.
Update: And here's what GWB has to go through:
Bush also said that after the transfer of power, he flopped on the couch and sighed, "Free at last". And, to this, his wife Laura replied jokingly, "You're free to do the dishes."
Ajamal Kasab's new counsel is Abbas Kazmi one street-smart lawyer. He has contended that contented that Kasab was just 17 at the time of Mumbai massacre and should be tried in a juvenile court. The plea, of course has been rejected.
The special Sessions court located inside the Arthur Road jail turned down the appeal of Mumbai terror accused Ajamal Kasab that he should be tried in a juvenile court.

Abbas Kazmi, the newly appointed counsel of Kasab, contented that Ajmal Kasab was just 17 at the time of Mumbai massacre, so the case should be proceeded in a juvenile court under the juvenile laws.
If people can accept that Shahid Afridi was just 16 when he scored that thrilling 37 ball century (and even believe that he is 29 years old as of today), they could accept that Kasab is just 17. Or maybe even 14.
Aamir Khan has offered to personally clean toilets of single-screen theatres – all to ensure that Vashu Bhagnani's film Kal Kisne Dekha does well at the box-office.
At the meeting of the United Producers & Distributors Association (UPDA) Vashu Bhagnani's hands and feet went cold with nervousness and pleasure when Aamir Khan walked up to him and assured the worried producer that his son's debut film Kal Kisne Dekha will get a royal release in single theatres even if the multiplex theatres remain unavailable.

Aamir said, 'Vashuji, we'll make sure that the mutiplex audiences will head towards single theatres to see your son's film. I will personally clean the w.c. if we have to. But don't worry, your film will get the proper release.'
Hmmm. After the Ghajini haircut hype unleashed on the multiplexes, I won't be surprised if more people buy tickets to watch Aamir Khan clean the toilets rather than watch yet another producer-ka-beta's debut film. And if someone from Harpic is listening – it's time to grab the opportunity and sign Aamir Khan as its brand ambassador.
But strangely, I still can't figure the connection between cleaning the WCs and a box-office hit. Unless, Kal Kisne Dekha - pretty much like Ghajini – is load of crap.
I love this Times of India Headline:
It has become a fashion to open fronts: Sonia
But sadly, the story had nothing to do with Twinkle and Akshay Kumar.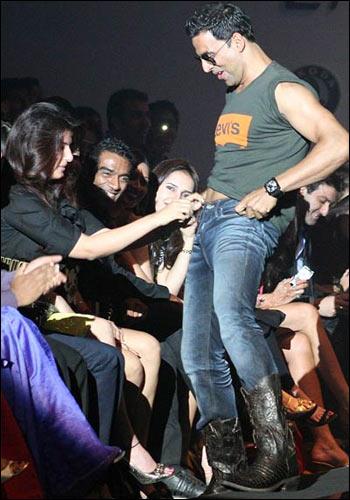 Italy has just seen has seen one of its worst ever earthquakes – and yet another gaffe from the Prime Minister, Silvio Berlusconi.
The Italian prime minister, Silvio Berlusconi, today sparked controversy when he said the 17,000 people made homeless by Monday's earthquake should think of themselves as being on a "camping weekend".

Berlusconi made the remark during an interview with a German television channel as he visited one of the emergency camps set up to cater for people who have lost their homes in the disaster.

The quake, which devastated the city of L'Aquila and surrounding towns and villages, has now claimed 260 lives. Berlusconi told the reporter for the N-TV channel that the homeless quake victims "lacked nothing"."They have medicaments. They have hot food. They have shelter for the night," he said.

"Of course, their current lodgings are a bit temporary. But they should see it like a weekend of camping."
While the rest of the world has pounced on Berlusconi for his insensitivity, I really don't think his comments deserve all that criticism. Berlusconi, is in fact right. When you think of a post-earthquake homeless experience as a camping trip – it does make your mood lighter. In every tragedy one goes through, the person has to look at the brighter things of life – or assume that this is yet another adventure you are going through.
Imagine if you are caught in a flood and your house is cut-off from the rest of the world. Simply think of it as Blue Lagoon kinda experience. If you are caught in a hotel with terrorists shooting everyone around – think of it as an opportunity to play the banian-clad Bruce Willis in Die-Hard. If you are caught in a worse tragedy – like a movie where Aishwarya and Hrithik Roshan attempt acting- think of it as a trip to the Madame Tussauds wax museum.
And if you are caught in a Himesh Reshammiya concert – well you can't do anything. In fact you are dead, admitted into hell for your past paaps and there is no way out.